Whatever you need for milling and turning, we offer the best. With over 20 years experience in the design and manufacturing of precision machine tools, we have maintained the leading position in Taiwan through innovation, quality, and flexibility. Roundtop / Johnford is dedicated to offering customers the best in machine tools.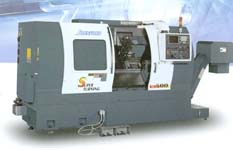 Stable, stylish, and packed full of super turning power, Johnford's Super Lathes SL series not only meet today's needs, but also future requirements. Some of the features include:
Contact us today for more information about our featured machine, lathes or any of our quality products.