Creating a new standard in 3-D measuring. Today's manufacturing demands more accuracy, speed and functionality from 3D coordinate measuring machines. Mitutoyo has developed low-cost, easy-to-use coordinate measuring without compromising measuring accuracy. Learn what 40,000 others have already discovered -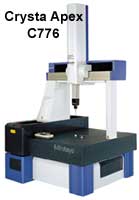 Mitutoyo CMMs are the most reliable in the world.
The Crysta Apex C series is not only fast and accurate, it supports the widest range of probes in the world. Other features include:
• Ultra silent motion
• Glass scales
• Compact design
Contact us today for more information about our featured machine, CMMs or any of our quality products.