Diversity, quality, innovation, and reliability are words that have been synonymous with SNK for nearly a century. Long recognized as one of the world's leading manufacturers of Bridge Type Machining Centers and Multi-Axis Profilers, SNK has the background, experience, and resources necessary to consistently supply a wide range of metalcutting machinery.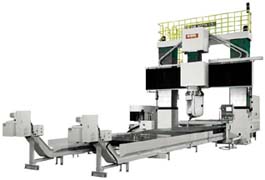 SNK's RB-F Series is ideal for complex die and mold applications and ensures incredibly rigid and precise operation. The 5-axis control offers:
• Precision multi angle milling and drilling
• Contour milling and flat machining
• Powerful spindle and high speed operation
Contact us today for more information about our featured machine, bridge mills or any of our quality products.